S
elfies are the thing today, photos taken by a person's own camera or cell phone.
<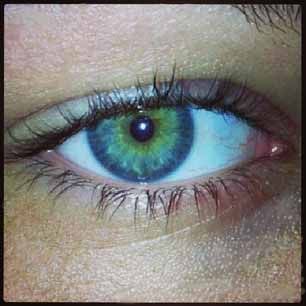 This photo is a selfie by the Famous Anonymous Kid of her own eye.
She shares the family green eyes with purple/blue circle around the iris.
Phones have come a far way from the old heavy desk phones of yesterday or the Instamatic disposable cameras not too long ago.
As far as I am concerned the verdict is still out on them. All I really want is to answer calls not have a phone that will tie my shoes. But my family got me a Samsung Galaxy something or other, the newest one anyway. will get around to visit a bit later tonight most likely.
It has been a busy few days.
Physical therapy is back in swing and this time with exercise machines that left my legs hurting a lot. More next week. No pain, no gain they say.
The snow storm has not been too big a deal here on the coast despite winter storm warnings etc.
A couple of inches of snow fell followed by a night and day of cold rain. Some snow lingers but, it is really more rainy than anything else.
Mr. Weatherman says we can expect a bit more to come up from the south at us tonight again.
Thunder and lightning have been seen and heard here in South Jersey with this storm. Spring meeting winter perhaps?
I am sure North Jersey got a significantly greater amount.
Tomorrow I will put up this week's meme and hopefully you will enjoy doing that when you get the chance.
I am so happy people are joining in on them.