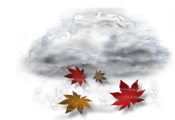 It is 8 O'clock in the morning and I sit here eating an apple and drinking a cup of hot steaming Orange Pekoe tea from Ceylon ,my favorite kind and wonder if going back to bed is a good idea. I am very sleepy.
Outside the day has a fall look to it with overcast silver skies and wet, gradually changing leaves. Touches of red and gold are already popping up. More and more each day.
The days go from chilly to downright warm as nature decides which suits her fancy and you never really know what to wear.
Late last night the first of the true Indian Summer storms arrived complete with noise.
A resounding clap of thunder and then rain falling off and on until early this morning . Now, as the sun rises higher in the sky drops are still falling from the Rhododendron by my office window and splashing on the ground one by one.
A frog is being very vocal for this time of year, complaining about the weather perhaps. You can never be sure with frogs. They are inscrutable and defy every attempt to interpret them. A laugh, a frown all look the same on those squishy green faces.
It is pitch black here at night. It can be somewhat eery to poke your head out the back door and see blackness all around, yet here the rain pounding on the pond and falling through the changing leaves.
It can be chilling to hear the scream of a fox in the middle of the night too.
The wind ruffles through the trees and they almost seem alive and whispering to you.
But after the rain you can smell the scent of salt and cedar in the air. It's refreshing and wonderful.
What's it like where you are?